Office environments are actually very noisy. If you are working in a call center or customer service center, you have to utilize headsets that can provide smooth and reliable communication. In these kinds of offices, your sales depend on the communication that you have with your clients. That is the reason why utilizing Plantronics headsets is essential in offices. There are different models of these devices that contain numerous features and qualities. They all can provide quality communication with efficient sound quality.
Some of their reliable models are mentioned in the given section.
1)

Plantronics Savi W745 Convertible Wireless Headset

:
Savi W745 from Plantronics is known for its efficiency in transferring digital signals and providing premium sound quality. It is a convertible device that allows unlimited talk time. It has many customizable wearing options that you can match according to your preferred wearing style. It has a massive swappable battery that provides an unlimited talk time option.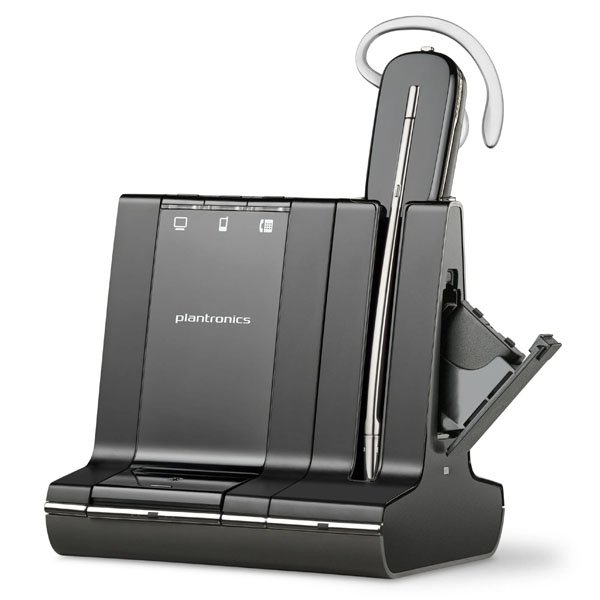 It provides a great role in the productivity of an office due to its Active Noise Cancelation feature. Users can easily transfer information to their clients without any noise. This device comes with the compatibility of multiple devices from PCs to Desk phones. It is a Plantronics device that is certified by Microsoft and can be easily optimized for Microsoft® Lync and Microsoft OCS 2007.
2)

Plantronics Savi W720 Wireless Headset

:
Plantronics Savi W720 is a wireless headset that can beat corded devices due to its various features. It has a long talk time or battery life of almost 9 hours. Its digital encryption has been done in 64-bit. It is one of the ideal devices for office environments where employees have to talk to customers smoothly. It shows compatibility with different PCs, mobile phones, and desk phones. It can be optimized for unified communication.
Its weight is 94 grams and has a very reliable and durable design. Its wireless frequency contains DECT 6.0 technology which allows users to use it even at a distance of 350 feet from the connected device. It contains SoundGuard hearing protection that keeps the ear safe even at sound levels of 118dBA. It keeps factors like noise and distortion away due to its active noise cancelation feature. It is an affordable device with a warranty of 1 year.
3)

Plantronics Savi W740 Convertible Wireless Headset

:
Plantronics Savi W740 comes with CAT-IQ technology and advanced wideband audio so that users can have high-definition sound quality. It consists of a microphone that contains ANC or Active Noise Cancelation feature. This microphone is capable of delivering your voice to the client without any distortion. It is a wireless device that comes with DSP technology to make the processing and transferring of digital signals smoothly and clear.
It is already customized according to unified communication requirements. This device is compatible with desk phones, android or ios smartphones, and PCs. It provides a long talk time of 7 hours. Its digital encryption comes in a 64-bit pattern. The wireless connectivity range of this headset is up to 350 feet. It has a strong and flexible structure with a weight of just 21 grams that can easily bear rough usage.