Offices are mostly the busiest yet the noisiest place to be. Agents and customer representatives hear, talk, and work with different clients for different business dealings; therefore, communication plays a significant part in their success. Thus to have outstanding telecommunication, one needs better quality headphones. Jabra headsets are an ideal choice for professional and personal use. They are featured with the best quality sound and comfort that an agent needs at a workplace. They are comfortable and light weighted to use. They range from corded to wireless, monaural to binaural, that can be chosen according to your choice. From an extensive range of headphones, here are the top 5 Jabra headsets of 2020 that you can choose for your office.
These earpieces are genuinely high performers for professional and personal use. They are integrated with the latest technologies and exclusive comfort that would make you fall in love with these headsets. They are sleek and elegant in their design with black color that looks more appealing to the see and wear. They provide confidence and better concentration towards work. They are manufactured by quality material that would not disappoint you at any place. They are laser welded with Kevlar cords for their construction that is strong and reliable for the office use. They can endure the sudden falls, wheels of chair, and any sharp object encounter. They can be connected with two devices easily. They are integrated with the DECT technology that allows you to have a natural call experience. You would hear what you want to hear. They enhance your freedom as they are built-in with the wireless range of up to 490 ft. The strong wideband and narrowband wireless capacity allows you to roam around the office and do your other tasks without being disconnected from the desk and your devices. They provide you a talk time of 13 hours that is more than enough for a shift. They are built-in with intelligent volume control and sound protection that safeguards your ears against the loud sounds.
These binaural wireless headsets are the perfect choice in 2020 for enhancing the productivity of the office and your agents. They are sleek and impressive in their structure and design that would provide you fantastic comfort and better sound quality. They are integrated with the DECT wireless technology that would make you hear crystal clear. This technology, with the combination of noise-canceling technology, has taken communication to the next level. A level that everyone wants to achieve when talking to each other. Such as, complete isolation from the surroundings to understand what is said and heard on both ends. These two-ear-sided earphones are very comfortable to wear with ear cushion made up of soft foam leatherette. They fit entirely on your ears and block away from the background noises as well. These earpieces can be connected with five devices with USB, Bluetooth, and analog desk phone. You can take the calls from all the devices with a single touch of a button. They have a boom arm that can be adjusted at 270 degrees for the better throw of voice. They are integrated with a wireless range of 490 ft. That allows you to stay connected with your devices no matter where you move about. They bring you a talk time of about 13 hours and can be fast charge with 0 to 40% in just 30 minutes, so you do not have to worry about the battery draining during use.
These earplugs provide world-class sound that is best to use in the open office environment. They are manufactured by audio professionals that researched and developed the best for your ears. These corded earphones are made with large leatherette ear cushion that hugs your ears entirely and does not irritate your contours even. The headband is also covered with thick head pads that provide a better grip to the head and allows you to feel comfortable for the long shifts. They are integrated with the Hifi-narrowband frequency response to provide you better sound. They are comfortable to wear and use. They can be connected with devices such as smartphones, laptops, PC, and tablets.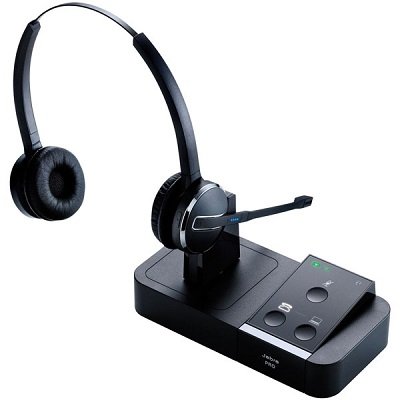 These headphones are specially designed for unified communications. They are supported by the DECT 6.0 that provides a natural experience to your calling. They are made in a sleek and classy design that makes it comfortable to use. This is the best choice for the high performance in the office as they are wireless and provide you the freedom to move away from the desk. They provide you a talk range of up to 450ft, which is a reasonable distance to walk and talk around the office. They offer you a distortion-free conversation without any inconvenience. They can be used to conference with four headsets that can be joined on to one base and at the same time for conferencing call purposes. They can be connected via USB or directly connect to the desk phone. They can be used for unified communications and can be connected to the PC for streamline music and sound. They are certified for the Skype business and webinar calls. They are developed with Jabra PC Suite that enables remote call controls these headsets. They provide the user all benefits of taking in the power of managing the calls by answering/declining even you are away from the desk or softphone.
They are the best choice for office use as they are integrated with the latest technologies that would allow you to work with a better focus. They support superior active noise-cancellation that will enable you to enjoy distortion-free calls. As the office environments are boisterous with bell ringing and chatting, so it gets hard to maintain the focus, therefore, these earplugs provide complete isolation from the surrounding. The integrated busy light allows the colleagues to know whether you are available or active on the call.