In the modern era, where ways of telecommunication are getting better and smarter, people still consider using corded phones. They were once was the only way to get connected with friends, family, and business purposes. They are simple and still in use at homes, offices, and supermarkets. They are still a practical and reliable way of telecommunications. Here is a complete guide that will allow you to choose the best corded phones of 2020 for clear communications. They are integrated with advanced technologies that will provide new power to your conversations.
This is an ideal option for home and office use. They are designed with broader display and better comfort. The receiver is sleekly designed to hold firmly and can catch the speaker's voice accurately. The cord attach is flexible and safe to touch. The speaker allows you to hear loud and clear when you are busy with other tasks and cannot hold the receiver in hand. The keys are more comprehensive and printed with a larger font that makes it easy to dial the number for the people who have eye-sight or vision problems. The keypads are soft to touch, and LCD provides a better display. The keys are big enough to dial a number conveniently. The display shows caller ID and makes it easy to know who is calling before receiving the calls. These phones are integrated with machine recording and can record up to 25 minutes. They provide you easy access buttons such as a speaker, answer/decline call, or mute. They are power sources by the line-powered. They are light weighted and made out of the quality material, which is durable and long-lasting as well. They can be placed on a table or mounted on a wall.
At a glance, the main feature of Cortelco telephones is the sleek and elegant style with a broad base. They are easy to handle and set up. They can be used for personal or professional use. They can handle both incoming and outgoing calls, making it easier to hear and talk. They have only one receiver that can be used easily with a lengthy and flexible cord that allows you to listen to the calls in your desired manner. The black and grey color gives it an outstanding outlook no matter wherever you may place it. They have extra keypads for the frequently used functions such as mute, speaker, and redialing. They have machine recoding time in minutes with message waiting alert. They are built for easy and quick communications.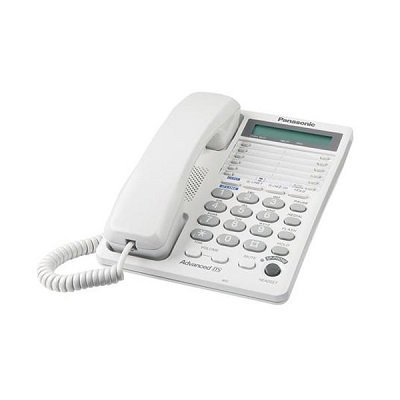 Do you think you need a new phone but worry that it would not be loud enough to alert you? Then this is the right choice for you as they are simple yet very powerful to make you aware of the incoming and outgoing calls. The main feature that makes them unique is the large big buttons. The keypad is large enough to dial by the seniors and provides a friendly outlook. They are highly comfortable to use and gives you quality sound to hear on both sides. They are developed with one handset and two phone lines. They run on battery and have machine recording function as well. They are designed with recycled packaging, therefore, environment-friendly to use.
This is a brilliant option to choose for your home and offices as they are incorporative with attractive modern aesthetics. They are developed with executive IP business phone functionality that provides you HD audio quality. They are manufactured to offer you better audio and comfort during the use. They possess a large alphanumeric display with the secure navigation key. They provide a 2nd IP port to reduce desktop cable clutter. The sizeable Backlit LCD display with four levels of contrast. They notify you about the incoming/outgoing calls, missed, and incoming voice messages. The programs, ringers, and main menu are easily approachable. The base unit comes with a tilt style that gives a better display and convenient to use. They have 24 programmable keys that make your work more effective and efficient. The headset port comes with a 2.5 mm jack. They are also integrated with Bluetooth technology that allows you to connect other headsets with the base. They have a full-duplex speakerphone and an extensive phone directory. They require a PoE or a power adapter (optional). They are light-weighted and are manufactured out of durable materials that make them the best choice to use to experience clear communications.
Yealink provides a fantastic solution for a busy workplace. It is incredibly user-friendly and offers wideband audio to ensure premium quality voice communication. They present a graphical LCD display and present a louder sound on the speaker. They have a full-duplex and hands-free speakerphone that gives you crystal clear sound. They present a one-touch speed dial and redialing options. They let all the functions in your control, such as call forward, call waiting, call transfer, and call hold. They can be used for the 3-way conference calls. They have an extensive phonebook that can hold up to 1000 entries. They come with message waiting indicators, voice mail, call park, and call pickup notifications. They also support call recording and show the caller ID. They include stand for the desk and can be wall-mounted according to the use.
Hence all these corded phones are the best choice to buy in 2020 for the crystal clear communication. They possess all the latest technologies that provide you quality sound and comfort in your control.