Jabra Wireless Headsets
Offices that make their livings over the phone, like call centers, customer support offices, advisors, civil servants, and financial traders, should have to utilize jabra wireless headsets for yealink. These devices are quite effective in communicating with clients and even listening to music as well. Strong connectivity options and freedom to move anywhere make these devices very functional. They are great for noisy environments in the offices. There are numerous models that this company offers in headpieces. You can choose any of them that suit your requirements perfectly.
Top pro models with the remarkable functionalities that this company offers are mentioned below.
1)

Jabra PRO 930 UC Wireless Headset

:
The manufacturer of Pro 930 wireless is Jabra. It is the headset type of device that contains wireless USB connectivity. Desk phones, android cellphones, LEDs, and PCs, this model shows the compatibility of connective to numerous devices. The mode of sound that this device has is Mono. The reason why it is great for the office environment is that it has noise-canceling microphones. The SafeTone technology inside it makes it perfect for the safety of persons that are utilizing it.
It gives a massive connectivity distance of 325 feet which makes workers able to move around their desks doing other work while taking calls from their clients. It has a built-in alert ring base unit that notifies users when there is a call waiting for them. You can even control the call from the headset due to its intuitive functionality. It gives crystal clear communication between its users and their clients.
2)

Jabra PRO 9450 Duo Wireless Headset

:
Pro 9450 duo from Jabra company known as good quality product due to its efficient and premium sound providing the feature. The wireless technology that this device contains is DECT 1.9, which is the latest version of this connectivity. The talk range of connectivity range that this device provides is up to 450 feet. Its charging can last for 10 to 12 hours which is enough for daily use.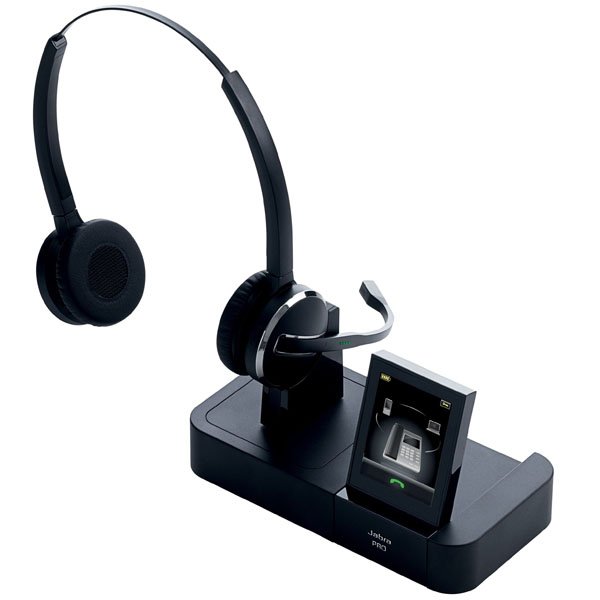 It provides unified communication and can also be used for mono purposes. It has windows operating system and is synced with Microsoft. You can directly connect it with your desk phone via a USB port, or you can use its Bluetooth connection and compatibility with desk devices. Users can make up to 4 calls by utilizing this device. It works perfectly with traditional desk phones because of its advanced control center. Noise-canceling features in the microphone and quality sound are its other features.
3) Jabra PRO 9450 Flex Wireless Headset:
Jabra Pro 9450 flex comes in two different wearing styles. One is with an ear hook, and the other is the headband. You can even get the optional style which is a neckband, but that you have to buy it separately. It also has DECT 1.9 technology that provides stable connections between devices and makes your calls crystal clear. The distance between the main device and this headset can be up to 450 feet which is more than enough.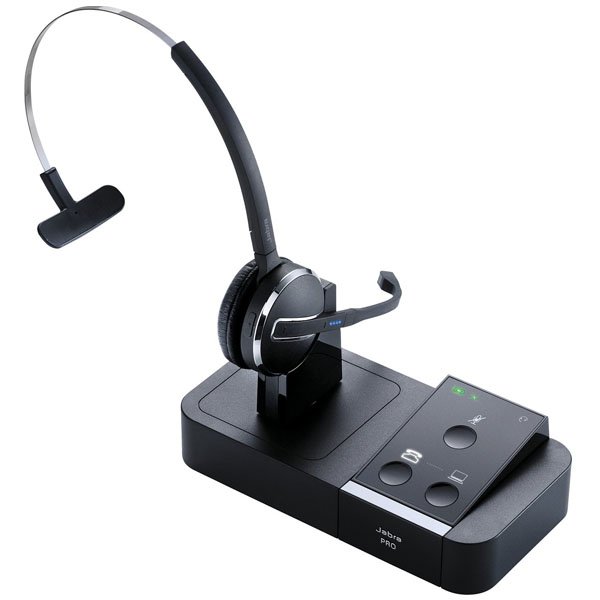 It is great for office requirements because of its unified communication technology. The operating system of this device is Windows. You can connect the device with USB cables if it is low on battery though it has a huge battery timing as well. You can make a direct connection between your desk phone and this headset easily. It contains a control center and is applicable to the Jabra PC Suite.